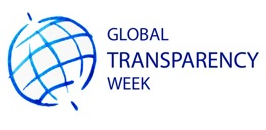 Global Transparency Week is a series of events focusing on transparency, accountability and good governance. It will start on October 24 in Washington D.C. and finish with the Open Government Partnership conference in London on October 31, 2013.
The international events are hosted by organisations and campaigners interested in raising the profile of transparency in the diverse sectors we cover, and the commitments of countries towards increased openness in those sectors.
Events held as part of Global Transparency Week will range from presentations on donor rankings in aid transparency, to development data hackathons, to debates around the merits of open data.
Global Transparency Week will bring together transparency campaigners for one week, in five different countries, to add to the strength of our collective voice.
For more information, please visit: http://globaltransparencyweek.org/