IATI FAQs
1. What is IATI?
The International Aid Transparency Initiative (IATI) is a way to make information about aid spending easier to find, use and compare, by using a common standard for publishing information.
IATI was launched in September 2008 during the Accra High Level Forum (HLF) on Aid Effectiveness. Donors committed, under the Accra Agenda for Action (AAA) to:
publicly disclose regular, detailed and timely information on volume, allocation and, when available, results of development expenditure;
regularly make public all conditions linked to disbursements;
provide full and timely information on annual commitments and actual disbursements;
provide 3 to 5 year forward budgets.
IATI was designed as a practical way to deliver on these commitments in a coherent and consistent way.
2. Why is IATI important?
Recent research shows that developing countries and their citizens face huge challenges in accessing information about current aid flows and activities. IATI aims to address these challenges.
Being transparent about aid flows helps:IATI means those involved in aid programmes will be able to better track what aid is being used for and what it is achieving. This stretches from taxpayers in donor countries, to those in developing countries who benefit from aid. Improving transparency also helps governments in developing countries manage aid more effectively. This means that each dollar will go as far as possible towards fighting poverty.
Recipient governments to better plan and manage the aid they receive.
Citizens of developing countries to better understand what aid their country is receiving, so they can hold their governments and donors to account.
Citizens of donor countries to better understand how their taxes are being used to fight poverty in the developing world.
Donors and development agencies to better co-ordinate their efforts.
Parliaments and non-governmental organisations in developing countries to track aid flows and ensure that aid is spent wisely.
3. Who is involved in IATI?
IATI is a voluntary, multi-stakeholder initiative that has brought together:
donor country governments
developing country governments
multilateral organisations
non-governmental organisations
private philanthropic foundations
experts in aid information and the broader transparency community
As of February 2014: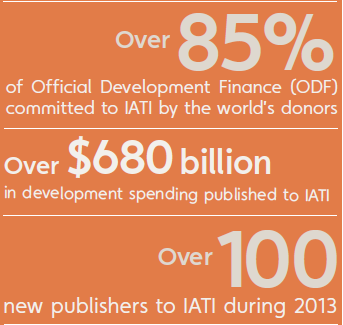 …and these numbers are increasing every day.
4. How does IATI improve information in developing countries?
IATI improves information in developing countries for several reasons. Donors make a public commitment to improving the comprehensiveness, timeliness, accessibility and comparability of their aid data, and put in place more systematic mechanisms to collect, structure and publish information needed by developing country governments. At the same time, publication in a common format makes it easier to see flows as a whole, by reducing inconsistencies, double counting and missing data, and makes it easier to reconcile data from a variety of sources. This enables more accurate budgeting, accounting and auditing by developing countries, improves coordination among donors, and allows civil society to hold donors and their governments to account.
 5. What are the potential uses of the information?
IATI makes it possible for third party organisations and individuals to access and use the information supplied through IATI via the Registry. This will allow users to develop applications and services to present the information in order to meet specific needs.
Donors may be interested in showing where and how they are spending their taxpayers' dollars and how effective these programs are. They might also want to see what other donors are doing (or planning on doing) in order to coordinate more effectively, seeing gaps and potential funding opportunities and achieving value for money.
Partner country governments may want to see all the current and planned aid flows to their countries so that they can make better plans about how to spend their own resources.
Citizens in the north and south may want to look at aid flows to see whether donors and partner countries have kept their commitments, and hold them to account.
Parliamentarians and journalists may wish to scrutinise budgets and programs, exercising their oversight role to ensure aid flows are as effective as possible.
All of these users require different perspectives on the data, which requires infomediaries and civil society organisations to take the information and help make sense of it.
Read the stories below to find more about the importance of aid transparency to developing country governments:
6. How is IATI administered and governed?
IATI is administered by a virtual secretariat comprising DFID, UNDP and the non-profit organisation Development Initiatives (DI). The work of the Secretariat is overseen by the IATI Steering Committee.
IATI is governed by a multi-stakeholder Steering Committee, chaired by DFID, and including Publish What You Fund – the full list of members can be found here.  The IATI Steering Committee has responsibility for overseeing IATI and major changes to the IATI standard. They make key decisions about IATI project planning, budget utilisation and proposals on the information to be published under IATI. The Steering Committee meets 3-4 times per year.
Technical work under IATI is taken forward by the IATI Technical Advisory Group (TAG), which is responsible for technical development and proposing changes to the IATI standard. The TAG reports to the Steering Committee. Membership is open to any interested donor, partner country, civil society representative or aid information expert.
7. What is the difference between the Standard and the Registry?
Standard: The IATI Standard meets two important components of the transparency agenda: a common format and a framework for implementation. It provides a common data format so that all donors publishing to the IATI standard release their information in the same way. This makes it easier for data users to access the information and compare it against other donor's data. And it provides an agreed framework of best reporting practice which delivers information that meets the needs of all stakeholders (particularly partner countries).
Registry: The IATI Registry points users to original source data from IATI publishers. The Registry keeps track of which IATI data sets are available, what they cover, and where they are located. It is not a database and does not keep a copy of the data. The Registry is a signposting system used either by a person – using, for example, a web browser – or by a computer programme. Donors publish their IATI information online, normally on their own website and then register the location of the data with the IATI Registry.
8. So is IATI another database?
IATI is not a database.  Databases are often populated manually and maintained by staff of developing countries and donor agencies. The format of the database often depends on the needs of particular users; IATI recognises that different users have different needs.
IATI data is open, standardised and flexible – it can be freely converted into the appropriate format for a particular need. From its raw form, a technical user can transform IATI data into tables, spreadsheets, data visualisations, etc.
9. How can my organisation engage in IATI?
Donors should sign up and start publishing to the IATI Registry.
Partner countries are invited to endorse the IATI Standard. This means that they support the aims and objectives of the initiative and will contribute to its design and implementation, while recognising the main obligations under IATI are placed on donors.
Other aid actors are encouraged to start publishing their information according to the standard. Close to 200 NGOs and several private organisations have become IATI publishers since 2011.
10. What involvement have partner countries and the NGO/CSO community had in IATI?
Partner countries and civil society have been heavily involved in the design of the IATI Standard since the very start. Both partner countries and civil society organisations sit on the IATI Steering Committee, and there were lengthy consultations of both, run by UNDP and IBON respectively.
Partner countries consulted indicated that they want aid flows to be timely, up-to-date, reliable, and include information about current and future aid flows.
Transparency allows for effective mutual and domestic accountability. This is particularly the case with regard to the allocation, use and monitoring of the results of aid and other official flows. As of November 2012, 22 partner countries have endorsed the IATI Standard.
Likewise, the NGO/CSO community were consulted as part of the development of IATI, and have been active participants in the IATI Technical Advisory Group (TAG).  NGO/CSOs are some of the most active publishers to IATI, and have helped bring the total of publishers to over 200.
Visit the IATI resources page to read about the experiences and lessons shared by partner countries and NGO/CSOs.
11. Is IATI just a duplicate effort to DAC reporting, and other similar systems?
IATI provides data on current activities, updated on a quarterly basis, whereas information provided via DAC reporting is historical – i.e. by the time it is released, it is at least a year old.
IATI will not replace work already being done, by organisations such as the OECD-Development Assistance Committee (DAC), to produce statistics about historical aid flows and aid activities. Instead, the IATI standard builds on – and goes beyond – the standards and definitions that have already been agreed, in order to satisfy the information needs of recipients and civil society.
There are already many overlapping reporting systems. IATI seeks to reduce these and apply common standards and definitions to those that remain. It has established a common way of recording and publishing aid information that enables a variety of users to access the data they require and present the information in different ways.
IATI uses the DAC standards where they exist, and the DAC Working Party on Statistics (WP-STAT) continues to be custodian of these standards. However, IATI includes a much wider set of information than that included in the DAC CRS: more timely and detailed operational data, as well as results, conditions, geo-coding, and project documents.
Information in country-level Aid Information Management Systems (AIMS) is normally incomplete and often not publicly available. This hampers efforts by citizens and parliamentarians to hold governments and donors to account.  This is particularly the case for developing country citizens and civil society organisations (CSOs). IATI will also help to populate existing incomplete data held by AIMS, by providing high-quality and timely feeds of raw data straight out of donors' project management systems.
12. Will IATI mean additional workload for donors and aid agencies?
While implementing IATI may require an additional investment initially, it should help donors decrease the administrative costs of collecting information and multiple reporting. This can not only minimise the costs of greater transparency in the future, it can also reduce the existing costs of reporting aid information.
In many cases the publication of IATI information will not go through the statistical reporters, or even be centralised. Information may be automatically published by project management systems.
Donors will have to do some things differently as a result of greater transparency irrespective of the system used to implement it, but there is a recognition that in some cases, it will not be possible to publish information as there would be a substantial risk of harm. IATI has worked with experts on exemptions and the standard allows donors to withhold publication of information, as long as the criteria that donors use to decide such exemptions are transparent.
13. How does IATI relate to the Open Government Partnership (OGP) and open government standards?
The OGP is a global multilateral initiative that aims to secure concrete commitments from governments to promote transparency, empower citizens, fight corruption, and harness new technologies to strengthen governance.
In recognition that aid is not disconnected from other flows and activities, work is ongoing between IATI and other global norms and standards bodies to ensure greater synergy between open government and open standards.
Some countries (including the UK, U.S, Sweden, Denmark, Spain, Canada) have included aid transparency as a specific commitment in their National Action Plans, often with an emphasis on whole-of-government publishing (i.e. publishing aid information in a common format from all relevant government departments).
14. How does IATI fit into the work of the Global Partnership on Effective Development Cooperation and the "common standard"?
IATI is a core component of the common standard for aid information, agreed in June 2012 after initial agreement at Busan. The Global Partnership provides the governance structure for future changes to, and administration of, the common standard.
15. If donors do not have the information in their systems, how can they meet IATI requirements?
Sometimes, donors do not collect information at all, or they may collect information in a format that makes it difficult to publish. IATI is very pragmatic about this, recognising the fact that it will often take time for donors to adjust their systems. Encouraging donors to "publish what they can", IATI calls on donors to gradually improve their compliance with the Standard by adjusting systems as part of routine IT upgrades.