We envisage a world where aid and development information is transparent, available and used for effective decision-making, public accountability and lasting change for all citizens.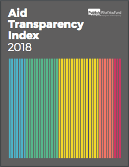 Our report is the only independent global measure of transparency among the world's leading aid donors.
CASE STUDIES
Case study interview: Jorge A. Matine – Coordinator of the Public Finance programme, Centre for Public Integrity (CIP) Mozambique. 15th March 2018 Jorge works for the Centre for Public Integrity (CIP), a think tank and watchdog organisation in Mozambique that promotes...
LATEST NEWS
Do you know what aid and development data is available that could support your work? Do you know how and where to find the details of over one million aid and development activities? If you would like to know more about the data and tools available, sign up for one of...
Today we're launching a new tool that uncovers huge swathes of previously incomprehensible aid and development information. IATI Decipher, for the first time, visualises strategic and budget documents in the IATI Registry. This valuable data – encompassing over 22,300...
This is a joint blog by Publish What You Fund Senior Advocacy Adviser James Coe, and US Representative Sally Paxton. In the aid transparency arena, one of the most frequently raised issues concerns data use. Why has there not been more uptake of data from the myriad...
UPCOMING EVENT
How To Use Open Aid Data 101
5 & 7 December 2018
If you've ever wondered how to track where aid money is going, how it's being used, or simply how much is being spent somewhere, then sign up for one of our free interactive webinars.