We envisage a world where aid and development information is transparent, available and used for effective decision-making, public accountability and lasting change for all citizens.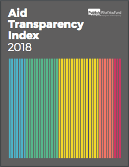 Our report is the only independent global measure of transparency among the world's leading aid donors.
CASE STUDIES
Case study interview: Jorge A. Matine – Coordinator of the Public Finance programme, Centre for Public Integrity (CIP) Mozambique. 15th March 2018 Jorge works for the Centre for Public Integrity (CIP), a think tank and watchdog organisation in Mozambique that promotes...
LATEST NEWS
Today we're launching a new tool that uncovers huge swathes of previously incomprehensible aid and development information. IATI Decipher, for the first time, visualises strategic and budget documents in the IATI Registry. This valuable data – encompassing over 22,300...
This is a joint blog by Publish What You Fund Senior Advocacy Adviser James Coe, and US Representative Sally Paxton. In the aid transparency arena, one of the most frequently raised issues concerns data use. Why has there not been more uptake of data from the myriad...
DFI Transparency-getting into the detail In this blog, our CEO Gary Forster outlines the reasons for launching our new Development Finance Institutions transparency initiative. With the changing nature of the aid and development landscape, DFIs are playing a more...
UPCOMING EVENT
IATI Technical Advisory Group (TAG) 2018
13 – 15 November 2018
Kathmandu, Nepal
The annual TAG meeting brings together technical experts, open data advocates, IATI data publishers and users from around the world. Several members of the Publish What You Fund team will be attending.