We envisage a world where aid and development information is transparent, available and used for effective decision-making, public accountability and lasting change for all citizens.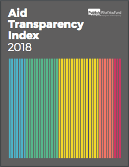 Our report is the only independent global measure of transparency among the world's leading aid donors.
CASE STUDIES
Case study interview: Jorge A. Matine – Coordinator of the Public Finance programme, Centre for Public Integrity (CIP) Mozambique. 15th March 2018 Jorge works for the Centre for Public Integrity (CIP), a think tank and watchdog organisation in Mozambique that promotes...
LATEST NEWS
The new US Development Finance Corporation provides a rare opportunity to set up an agency from the beginning. We can learn from other development finance institutions (DFIs) as to what worked and what did not. This is an opportunity to reach higher, to innovate more, and to truly set a gold standard for transparency.
How do we balance supply and demand? We have a dilemma. How do we balance the supply of a functioning, usable aid transparency architecture with the growing demands of the numerous and increasingly competent users. How can we all ensure existing users receive the...
The aid transparency community has a decision to make. All at once we need to raise awareness of the presence of huge volumes of aid and development finance information, and at the same time support new and existing users when they have challenges accessing it.  In...
UPCOMING EVENT
Private Finance for Sustainable Development Week
15-18 January 2019
We will be attending this annual OECD event that brings together the public and private sector to discuss new approaches in using private finance to achieve the Sustainable Development Goals. The "impact imperative" will be the main theme.