We envisage a world where aid and development information is transparent, available and used for effective decision-making, public accountability and lasting change for all citizens.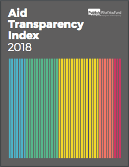 Our report is the only independent global measure of transparency among the world's leading aid donors.
CASE STUDIES
Case study interview: Jorge A. Matine – Coordinator of the Public Finance programme, Centre for Public Integrity (CIP) Mozambique. 15th March 2018 Jorge works for the Centre for Public Integrity (CIP), a think tank and watchdog organisation in Mozambique that promotes...
LATEST NEWS
As we have outlined in the first blog post of the series on publishing practices, getting the basics right is essential to improve both the user-friendliness and the usefulness of IATI data, removing barriers to data use, including by non-experts. Aid transparency is...
With the dust already settling on Publish What You Fund's Aid Transparency Index (the Index), launched at the Brookings Institution in Washington DC on 20 June, it is worth reflecting on one of the more interesting results to emerge this time – the contrasting fates...
It has only been a month since we released the 2018 Aid Transparency Index, but we've been excited to see lively discussion about the results. As we have emphasised before, the Index process is an interactive one and this does not stop with the publication of the...
UPCOMING EVENT
2nd UN World Data Forum
22 – 24 October 2018
This event looks at the role of data and statistics in effectively measuring – and achieving – the 2030 Sustainable Development Goals.