We envisage a world where aid and development information is transparent, available and used for effective decision-making, public accountability and lasting change for all citizens.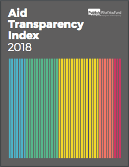 Our report is the only independent global measure of transparency among the world's leading aid donors.
Why does aid transparency matter?
Find out why aid transparency matters and how you can get involved
LATEST NEWS
This blog has been co-authored by Elise Dufief, Research and Monitoring Manager, Publish What You Fund and Claire Schouten, Senior Programme Officer, International Budget Partnership. At the core of the relationship between citizens and the state are decisions about...
UPCOMING EVENT
2nd UN World Data Forum
22 – 24 October 2018
This event looks at the role of data and statistics in effectively measuring – and achieving – the 2030 Sustainable Development Goals.