We envisage a world where aid and development information is transparent, available and used for effective decision-making, public accountability and lasting change for all citizens.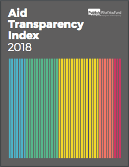 Our report is the only independent global measure of transparency among the world's leading aid donors.
CASE STUDIES
Case study interview: Jorge A. Matine – Coordinator of the Public Finance programme, Centre for Public Integrity (CIP) Mozambique. 15th March 2018 Jorge works for the Centre for Public Integrity (CIP), a think tank and watchdog organisation in Mozambique that promotes...
LATEST NEWS
Did you see our recent blog on the last ten years of the aid transparency movement?  Owen Barder of the Center for Global Development and our CEO Gary Forster present the fascinating story of how the original vision for aid transparency emerged and grew, featuring...
By Giles Bolton, Chair of the Board of Trustees, Publish What You Fund, and Gary Forster, Chief Executive Officer, Publish What You Fund "We have found a lack of information from the government in their response. The databases we are looking at don't match....
This post was written by Sally Paxton, the US Representative for Publish What You Fund,  and George Ingram, Senior fellow at the Brookings Institution and Board Chair of Friends of Publish What You Fund. It was originally published on the Brooking Institution's...
UPCOMING EVENT
2nd UN World Data Forum
22 – 24 October 2018
This event looks at the role of data and statistics in effectively measuring – and achieving – the 2030 Sustainable Development Goals.