A few weeks ago, Publish What You Fund signed up to the Enough Food for Everyone IF campaign, which is being run by a coalition of over 100 NGOs – everyone from Oxfam and Save the Children to, well, us. Enough Food for Everyone IF is a great movement of individuals and organisations who have joined together to demand an end to the scandal of hunger.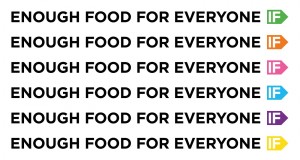 Chances are you'll have heard of the IF campaign by now, as it has received a fair amount of media coverage for a new campaign. The headline facts are that the world produces enough food for everyone, but not everyone has enough food. Hunger kills more people than AIDS, malaria and tuberculosis combined. Two million children die each year because of malnutrition. And around the world, one in eight people go to bed hungry every night.
Obviously these are not new issues – so why has this mammoth campaign kicked off now? Well, it's linked to a few important events in the UK this year. First is the March budget, which the government has promised will include foreign assistance funding at 0.7 per cent of national income. Then the big event is in June, when the world's most powerful leaders meet at the G8 Summit in Northern Ireland. The time to act is now, while the world is watching.
At Publish What You Fund, we are naturally interested in how transparency features in IF. The necessity of transparency runs throughout the entire campaign, but we were glad to see it feature as one of the four big IFs ('Enough food for everyone IF governments and investors are open and honest about the actions that prevent people getting enough food').
Specifically around transparency, IF asks the UK Government to:
Use its presidency of the G8 to push for greater transparency in land acquisitions, to ensure that corrupt deals are stopped and that people have the information they need to hold governments and companies to account.
Support greater financial transparency from governments of developing countries, so that citizens in these countries can hold their governments to account for the money they spend.
Promote greater participation by citizens in budget decision-making in G8 countries, with other nations encouraged to do the same. There should be a global agreement on publishing a full breakdown of all government income and spending in a way that's understandable and accessible to the public.
Improve corporate transparency, so that companies can be held to account by investors and the public for their actions in the food system. Under UK law, companies should be required to report on the full environmental, social and human rights impact of their business. The UK should also push for similar legislation in the EU.
While these asks may not directly relate to aid transparency, we felt it was important to lend our voice to the argument for transparency as an approach that underpins all development activity. Most importantly, tax, corporate and government income transparency are all vital parts of the bigger aid puzzle.
Greater transparency and clearer understanding of the funding that is being disbursed by governments or corporates can only be helpful in building trust and supporting discussions with citizens. This is a similar reason why we engage with the Open Government Partnership, as an initiative that promotes openness and good governance.
Ultimately for us, the question remains how transparency will improve the effectiveness of aid.
There are many ways to get involved in the IF campaign, and many different reasons why, but I'd urge anyone who is interested in aid effectiveness or transparency to find out more. For more detail on the issues affecting the world's food system and the policies that the IF campaign is asking for from the UK Government, download the comprehensive report or a summary version: