4 ways IATI could make MapAfrica stronger
At the African Development Bank (AfDB) annual meetings this week in Kigali, the bank launched a new online platform to map out its investments across Africa.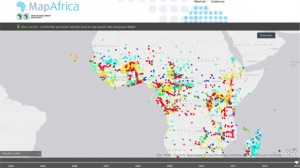 As we've said elsewhere, Publish What You Fund is pleased to see such a strong, on-going commitment to transparency by an influential organisation like the AfDB. It achieved the highest overall score among international financial institutions in the 2013 Aid Transparency Index, and I am confident they will continue to do well in future years.
But to really cement its place as a leader in aid transparency, and increase the benefits of the MapAfrica platform, the AfDB should be using its IATI data more, both internally and externally.
There would be four main benefits for MapAfrica if it used IATI data:
Geocoded location data would be supplemented by financial information, performance data and project documents (some of which is already included in AfDB's current IATI publication while others are scheduled for inclusion in the near future), enhancing the overall usefulness of the information.
Using an IATI feed will allow the AfDB to import and visualise data from other publishers with projects in the continent, providing a fuller picture of all ongoing aid projects. In the longer term, as more delivery partners start publishing to IATI, the platform could import and visualise data from these organisations, which would help trace aid through the delivery chain and encourage feedback loops for improving publication by making it easier to identify data gaps.
If there is automatic integration between the AfDB's IATI feed and the platform, any updates made to the data published on the Registry could be visualised via the platform on a real time basis and make the data accessible to a wider audience.
It would also be great to see an export function and open license – so users can download, manipulate and use the information to meet their own data needs and compare the information with that obtained from other sources.
We understand that some of this is in the pipeline already, so we are excited to see how the platform shapes up in the future!