The need, and the opportunity, for research to inform the data revolution debate
A few weeks ago, in the midst of all the Aid Transparency Index excitement, I participated in an event hosted by the Web Foundation's Open Data Research Network, intended to dig deeper into the opportunities and challenges presented by the open data revolution.
With presentations from myself, Jason Maglaughlin of CIVICUS, and Cecillia Makonyola of Restless Development, and discussion from partners in the Open Data in Developing Countries (ODDC) project, the session drew out a number of key themes:
Think about the primary data user
Focus on capacity for action
Think critically about the politics of categories and standards
Focus on accountability and collaboration
There is both the need, and the opportunity, for research to inform the debate
My presentation focused on the last bullet: the need to research and inform the debate. While I would by no means consider myself an expert on the many intersecting political and global practices at play, Publish What You Fund is in a unique position to be somewhat aware of them all.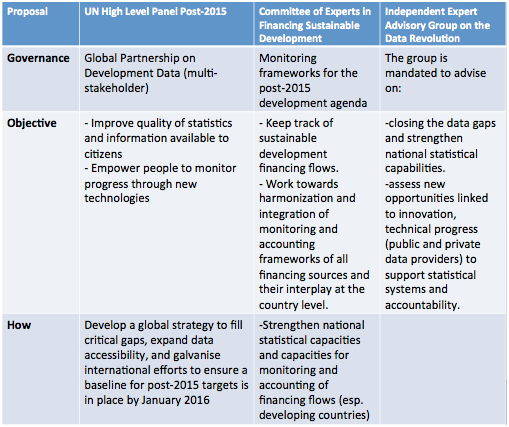 My aim was to set out the landscape of different activities going on to shape the data revolution, from the work of the High Level Panel on Post-2015, to the Committee of Experts on Financing Sustainable Development, and the new Independent Expert Advisory Group on the Data Revolution.
I also recognised that there is both a need, and a positive opportunity for research and shared learning to inform the debate. This is something we are trying to do as well as part our Road to 2015 campaign, and our work engaging partners as part of it.
Clearly the data revolution is still evolving – but I am glad to see that evolution in action. In an often overwhelming landscape of initiatives, consultations and conversations, it is good to see so many of us coming together to make sense of it all.