4.4 billion Euro black hole in European aid to poorest countries due to lack of donor transparency
LONDON – Lack of transparency by major European donors is hindering development outcomes in some of the poorest countries in the world, says Publish What You Fund's latest report. Together, the European Union and its member states are the largest body of donors in the world, giving €58.2 billion of critical development aid in 2014 alone. Yet nine out of 16 key EU donors and institutions are still not publishing their data on time and in detail, leaving recipient countries in the dark about expected funding.
Poor quality development aid information impacts recipient countries because they are unable to plan their budgets effectively and allocate resources to the most needed places. The 2015 EU Aid Transparency Review analyses 10 of the most aid dependent, low-income countries that receive high quantities of EU and U.S. aid. It reveals that only half of the official development flows by EU member states and institutions are being published to the international open data standard – the International Aid Transparency Initiative (IATI). This amounts to €4.4 billion ($4.8 billion) that recipient countries cannot see.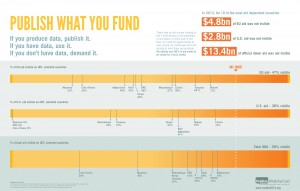 The 2015 Review finds that once again, a group of leading donors continue to lead the way in aid transparency, with Sweden, the UK and the European Commission (DGs NEAR, FPI and DEVCO) joined by Denmark and the Netherlands in the top performance categories. France has made progress in the last year, making considerable improvements to the quality of information published. However, together with other key donors Germany and Spain, they are still off track from meeting their commitment to publish their information in a comprehensive way by December 2015.
Rupert Simons, CEO, Publish What You Fund said
"The Addis Financing for Development conference is just around the corner and the decisions made there have huge potential for development progress. However, without accurate and timely reporting mechanisms, these new commitments will be less effective. Some of the largest EU donors are still off track and we are calling on these donors to put their data where their money is and publish what they fund."
Neven Mimica, European Commissioner for International Cooperation and Development said:
"This report is an important reminder for the development community to accelerate progress on making information on our activities more transparent. The European Commission works hard to ensure that the money of European taxpayers goes where it is needed most and can have the greatest impact – transparency is a key part of that. And it will become even more essential in the post 2015 framework. I am determined to continue promoting aid transparency, including collaborating with our peers in the donor community to make further progress."
Alongside donors and recipient countries, there is a growing demand for open data for development from civil society organisations to hold governments to account. Oxfam Intermón has an online platform tracking Spanish ODA.
Saya Sauliere, Oxfam Intermón said:
"Our analysis shows that Spanish citizens are engaging on the issue and want to know how Spanish ODA is being spent. We certainly see the value in more detailed and timely data on Spanish development cooperation, which would enable more effective monitoring. While Spain does publish information to IATI, the quality of information is not yet good enough for it to be useful."
ENDS
Contact:           Katie Welford, Communications Officer, Publish What You Fund T: +44 (0)7890 381 639 katie.welford@publishwhatyoufund.org
Notes:
The 2015 Aid Transparency Review can be downloaded from roadto2015.org/eu-review from 07.00BST on 3rd June. The Road to 2015 campaign is a civil society coalition, led by Publish What You Fund, pushing donors to deliver their transparency commitments made in Busan in 2011.
Rupert Simons, CEO, Publish What You Fund, is available for comment on Wednesday 3rd Please contact Katie Welford, Communications Officer.
Publish What You Fund is the global campaign for aid transparency, advocating for a significant increase in the availability and accessibility of comprehensive, timely and comparable aid information. The organisation monitors the transparency of aid donors in order to track progress, encourage further transparency and hold them to account. The annual Aid Transparency Index and 2015 Aid Transparency Review methodology is the only global measure of aid transparency.
At the Busan High-Level Forum on Aid Effectiveness in 2011, the world's largest aid providers committed to publishing their data to the International Aid Transparency Initiative (IATI) by the end of 2015. IATI is the only global common standard for publishing aid information that ensures data is timely, comprehensive, comparable & accessible.
The 2015 EU Aid Transparency Review investigates 16 EU institutions and member states, including principle donors such as Germany, France and the UK and EuropeAid- Development and Cooperation, the EU's main aid agency. It finds that overall nine agencies do not publish their aid information in a useful way.