Open results information: What do we know?
The findings of the 2016 Aid Transparency Index reveal that, yet again, very little progress has been made by organisations in the publication of results – especially when it comes to the International Aid Transparency Initiative (IATI).
Results are crucial. They allow for the impact of aid to be measured, outcomes evaluated, and best practices to be shared. This facilitates multiple levels of accountability between stakeholders in donor and partner countries. As we turn our attention to the value of better data, good quality and comprehensive results information has huge potential as a benchmark for more effective aid allocation. Scarce funds can be better allocated based upon the merits of a given aid programme as opposed to other more arbitrary – or indeed sinister – selection criteria.
It is worth noting here that donor agencies report results in a number of different ways. We define results as showing the outputs and outcomes of a given aid activity, and whether these have been achieved in accordance with the stated goals of the project. Both current and completed activities are assessed – as the expected results of the project should be made quickly available – with full results published within 12 months of it ending. Evaluations can follow at a later date to assess the project in its broader development context.
Publication level
Even to say that progress in results reporting by organisations included in the 2016 Index has been incremental would be flattery. Of the organisations that published results consistently in 2014, only one further organisation, the Netherlands Ministry of Foreign Affairs, has begun to publish results since 2014. There are 16 organisations that publish results consistently and a long tail of 30 organisations that either do not publish results at all or publish them inconsistently.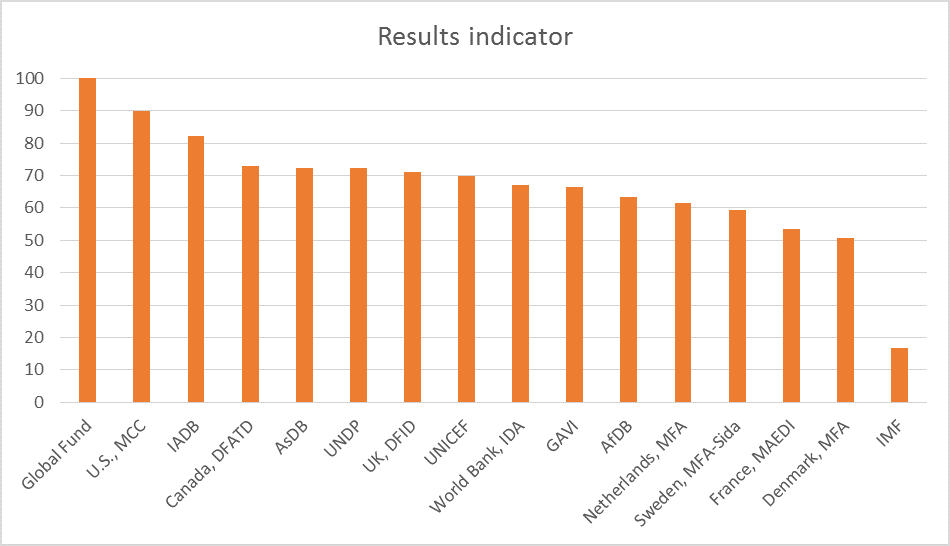 This long tail accounts for some US$ 190 billion (2014 official DAC statistics) of development assistance to partner countries as well as the lion's share of influence and those who set the dominant political narratives in development discourse. This is simply not good enough.
Quality – data and documents
On a slightly more optimistic note, there has been a marginal average improvement since 2013 in the indicator scores of those organisations that do publish results. This suggests that the quality and comprehensiveness of the results already being published is in the ascendency.
There are two ways in which donor agencies report results to the IATI Registry. Results are provided as document links embedded in code and as numerical or narrative data coded into an activity file. We assess the quality of this data by running a series of tests on all activities to check whether they conform to the IATI Standard. For results, the test checks how many activities that are at least in implementation phase have results attached and returns a percentage score for both results data and documents. These percentages are aggregated with equal weighting to derive a score for that indicator.
Leaders in results
As shown in the above graph, the Global Fund are the leaders in results reporting in the 2016 Index. The Fund publishes both results data and documents to the IATI Registry and updates monthly, achieving the highest score of 100 points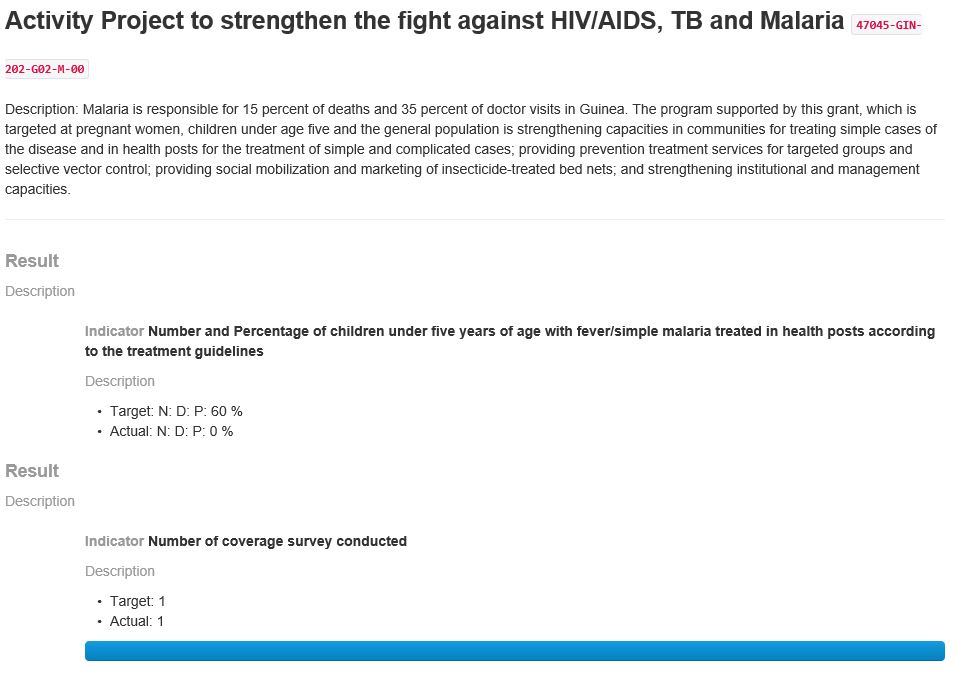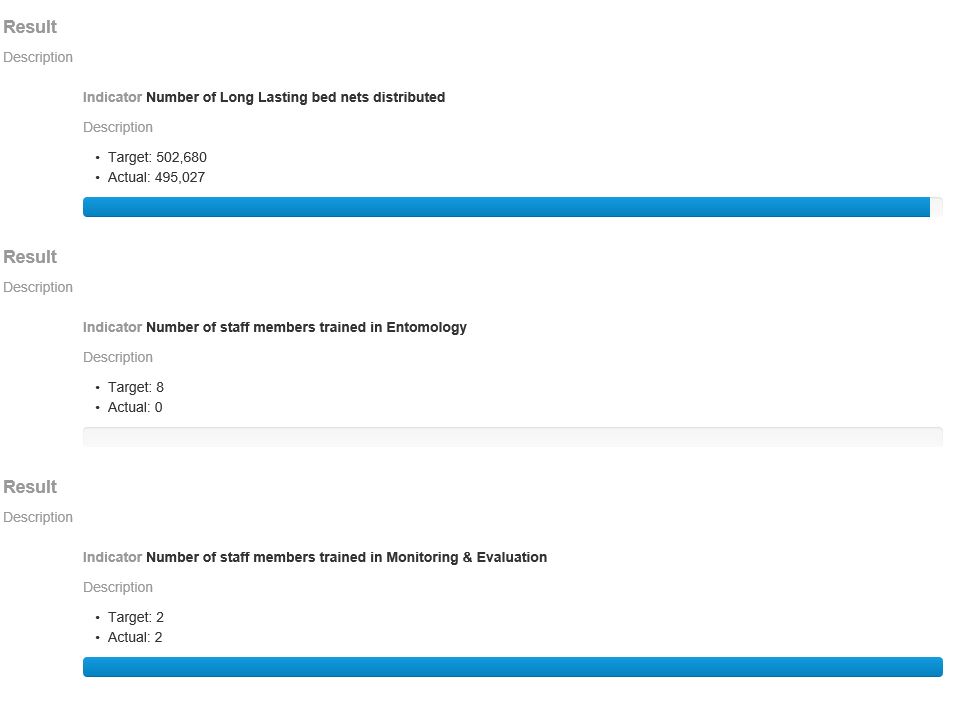 There is probably the case to be made that the highly technical nature of the Global Fund's work, and approach to the measurement of results, is an explanatory factor in its good performance. Being able to collate and report on highly quantifiable outputs, such as vaccines administered, as opposed to the measurement of the noisier indicators of social outcomes and development impact may be of advantage. The results measures used by organisations such as the Global Fund are also more easily captured in an IATI format than qualitative measures. This should, however, not diminish from the obvious commitment made by the Global Fund to results reporting.
Qualitative and quantitative reporting
The majority of results published by donor agencies are in documents, reinforcing the notion that it is difficult to provide results data. However, reporting qualitative results in the IATI Standard is by no means beyond the capabilities of donors. See below two examples of results data published by the MCC.
Quantitative reporting: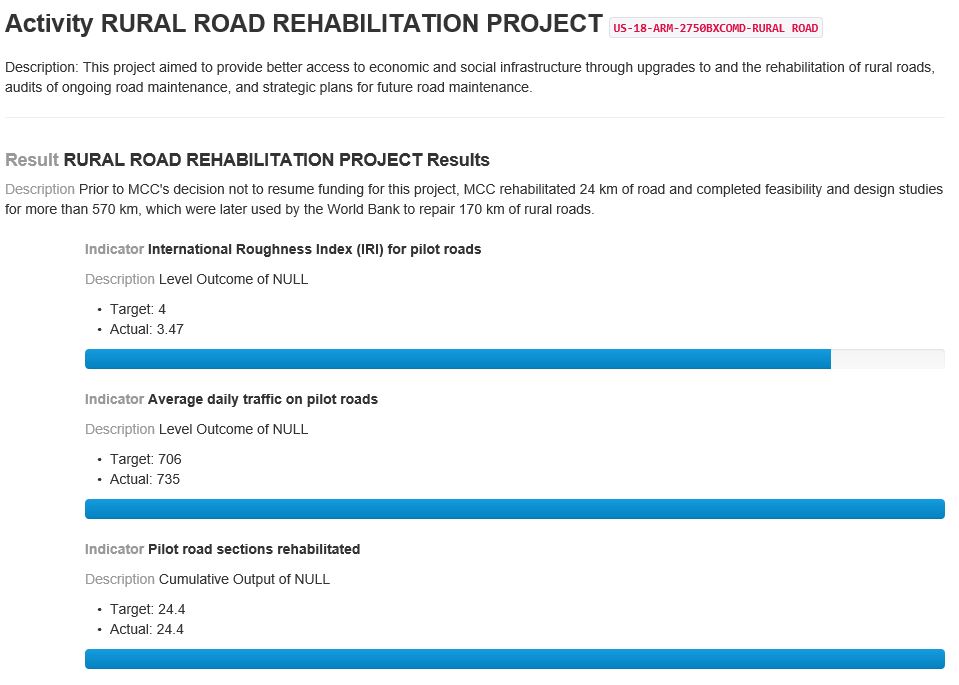 Qualitative (narrative) reporting:

One displays a set of clearly quantifiable results on a road infrastructure project. The second, of a water and sanitation project, shows how within the IATI framework narrative results reporting is facilitated. I will not bore you with the details of the IATI XML code but the development of tools, such as the Publish What You Fund tracker, that can easily extract this information in a highly useable fashion will increase the utility of such reporting.
Examples of best practice in using results data
There are few examples of organisations themselves using the results they publish to IATI or in other formats for programming or resource allocation.
Within the MCC, however, results are used within a set of common monitoring indicators to determine the extent to which their activities are performing against their desired outcomes. This information is tracked by MCC country partners on a quarterly basis and, where a project or program is off track, the cause can be identified and the project brought back on track. These performance indicators are then published to IATI.
This highlights what appears to be an interesting use of data that feeds into the effective management of aid programmes at the level of the organisation and individual activity. The granular data, aggregated to the country level or by strategic sector, can also be disaggregated to view progress against specific targets in country. The Global Fund also use their results in the allocation of programme funding.
The quality of results reporting must be improved, particularly by those donors included in the Aid Transparency Index, who account for nearly 98% of ODA and a large proportion of other sources of development finance. One of the best ways to ensure that funds are being spent effectively will be to invest them into what has been proved to be working. Furthermore, when information about what is working is properly open and transparent, all stakeholders can be involved in that conversation and the accountability of aid programming will be enhanced as a result.