The case for gender data from Côte d'Ivoire
This guest blog was written by Rosemonde Apata, President of MAFUBO Côte d'Ivoire — a non-profit which works to ensure Ivorian women are financially independent, safe from violence and have access to decent housing, healthcare and education.
Everyday thousands of women die during or shortly after childbirth. Regrettably, too many families in my country, Côte d'Ivoire, suffer from this painful experience; for every 100,000 live births there are 614 deaths during childbirth or within two months of delivery. The inconvenient truth is that the majority of these deaths are preventable.
One of the ways in which my organization, MAFUBO, is trying to resolve this is by improving access to quality gender data. We recognize that better gender data will allow us to examine, identify and understand many problems and aspirations specific to women, including maternal mortality rates. The collection and use of this data is central to helping donors better target their spending, while equally enabling civil society to develop more precise recommendations and implement better targeted interventions. Unfortunately, in Côte d'Ivoire we do not have access to the data we need.
One issue we face is that the data necessary to assess and address maternal deaths is often out of date or not available in real time for policy makers, the government or the population. To alleviate this problem, we need two sets of gender data: donor funding data disaggregated by sex, which would help the Ministry of Health understand what activities are already taking place and therefore improve its ability to better budget and plan, and detailed data on specific issues, such as the causes of death, to help the Ministry better target their approach and understand exactly how to improve the technical facilities in hospitals and advance treatment for women. Additionally, impersonal data on rates of maternal and child deaths could also be used by the Ministry of Promotion of Women, Family and Child Protection, statistical offices, public and international organizations and academics to boost our overall understanding of this issue.
To help solve this problem, my association has developed a piece of software called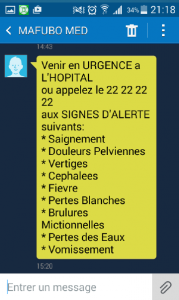 MAFUBO MED — a web application for management of pregnant women's health. MAFAUBO MED integrates information about a woman such as her name, age, marital status, residence, level of education, number of children and medical history. We intend to then collect further data using a smartphone application, integrated to MAFUBO MED software. This software will allow interconnection between different hospitals. Statistics and graphs generated on the rate of maternal mortality and births will help the government to improve women's health policy. The experimental phase of our project will be implemented in five locations across three major maternity hospitals of each locality: Korhogo, Man, Bouaké, Abengourou, and Abidjan.
By having access to this data we can also use the application to help manage, plan and improve education. MAFUBO MED is designed to send systematic written and audio message alerts to women about their appointments, as well as information on risks associated with pregnancy, proper monitoring, diseases and other emergencies. Messages and audio alerts can be conveyed in local languages ??as well so that they are accessible to as many women as possible.
We hope our work will contribute to improving the situation for women in Côte d'Ivoire. We now call on donors to do their part by publishing gender disaggregated data. We hope that this will enable the specific problems of gender inequality to be tackled, such as improving educational programs for girls in school and increasing action and funding for the empowerment of women in African countries.