The Stats behind the Soundbites: What does IATI say about US foreign assistance?
The 2018 foreign assistance cuts proposed by the Trump Administration have set off significant debates about the priorities for US investments abroad. Moreover, with ambitious reviews of both the Department of State and USAID about to begin, there are even more questions about how the US can most effectively deliver foreign assistance. As both the Administration and Congress make decisions on the shape and size of this agenda, it is vital that they possess a solid understanding of the impact of their decisions, both domestically and abroad. This requires access to quality foreign assistance data.
One starting point for this much needed intelligence is the International Aid Transparency Initiative (IATI). This reservoir of aid data provides funding flows and project information for almost 550 development organizations worldwide — including the US Government. Importantly, IATI can provide detailed US spending down to the project level but at the same time put US investments into context with other IATI publishers. This includes other major foreign assistance donors.
How much is spent?
Using IATI data, we can see that in the fiscal year (FY) 2016, the Department of State and USAID had a total budget of $33.7 billion. This includes development and humanitarian funds, as well as global health and military assistance.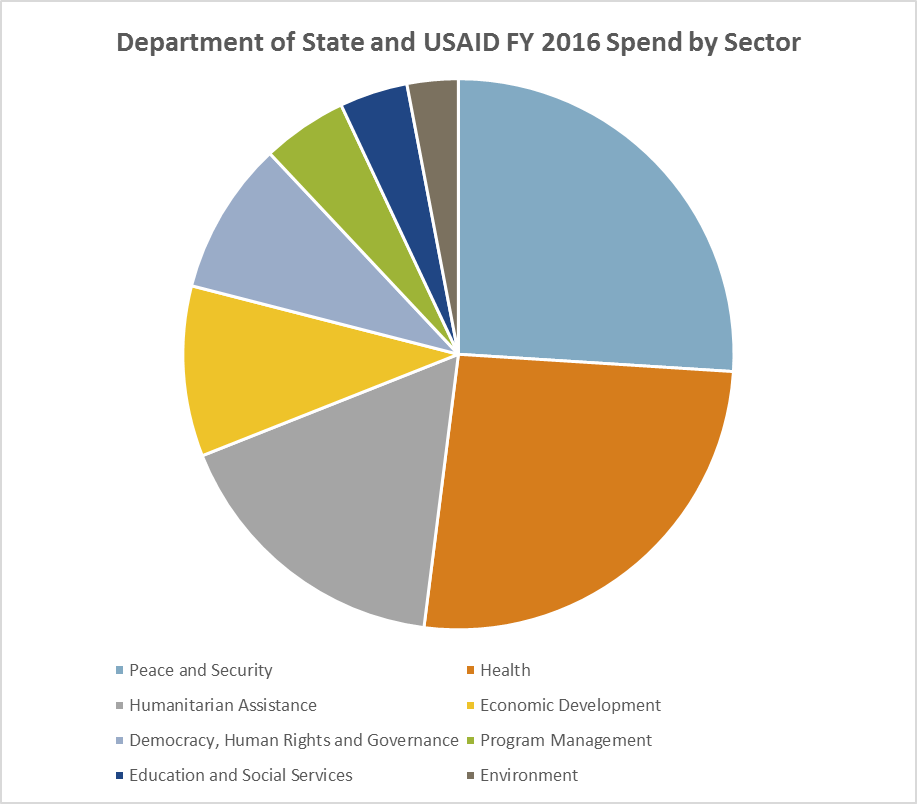 Of that figure, 26% – or one in every four dollars of US aid – was budgeted towards peace and security programs, which includes military aid. These funds are directed towards activities that help stabilize countries and regions, mitigate internal and cross-border conflict, counter terrorism and combat weapons of mass destruction. This budget would be cut by 14% under the White House's current proposal for FY 2018.
A further 26% was budgeted for global health programs which, among other things, represent a determination to end preventable child and maternal deaths within a generation and address serious pandemics such as HIV/AIDS. A further 17% was budgeted for humanitarian purposes and 10% was pegged for economic development. Just 5 cents on the dollar was budgeted for administration and program management.
While the debate on whether to slash the foreign assistance budget by roughly a third continues, it is worth noting that this budget is not one that has seen any real growth over the years. Although there have been minor fluctuations, the Department of State and USAID's budget has remained relatively consistent between FY 2010 and FY 2016.
The average budget is $32.6 billion – about 3% less than the FY 2016 budget. This is in contrast with some European donors – Germany, for example, increased its international development budget by 17.6% from 2015 to 2016.
Where is it spent?
If that is how much, the next question is where? A review of IATI data gives us the short answer: the US sends foreign aid to a lot of places. In total, for FY 2016 the US had country budgets for 144 countries – that's 73% of the world.
When assessing country budgets using IATI data, we can see that the US directs the bulk of its assistance towards the Middle East (38%) and Africa (35%). The country with the largest assistance budget was Israel. The country with the lowest was Saudi Arabia.
While the future shape and the size of the US foreign assistance budget is still to be determined, we do know that President Trump has proposed cutting back all non-health economic assistance for almost 40 countries. A number of those are countries where the US has a long history of working.
Take Senegal, for example. This is a country that the US describes as a "key partner" on the African continent and a country which has an unbroken history of peaceful transition. Further, as described by USAID's Senegalese strategy, it is a "buffer against the spread of extremism from the northern Sahel," and a vantage point from which to engage with the rest of the sub-region over the drug trade and circulation of small arms. Despite this, the current Administration has proposed to cut Senegal's total aid budget by 56%.
The debate surrounding the future of US assistance will most certainly continue for many months.  Understanding the impact of those decisions means that policy makers must make good use of comparable and timely data like IATI to understand both the context and impact of their decisions domestically and abroad.
Stay tuned for further IATI analysis on the FY 2018 Budget.