Launch of the 2022 Aid Transparency Index
Ten years of the Aid Transparency Index
Tackling global challenges with aid and development data
Watch now
On 13 July we launched the 2022 Aid Transparency Index. 2022 marks the tenth anniversary of the Index, the only independent measure of aid transparency among the world's major aid organisations. As well as highlighting the current state of aid transparency, we examined the extraordinary progress that has been made over the last ten years and discussed how we can tackle real world issues with global aid data.
This hybrid event was hosted by the European Commission, DG International Partnerships.
You can watch a recording of the event here.
Speakers:
Augustus Flomo, Deputy Minister, Ministry of Finance & Development Planning, Liberia
Angela Micah PhD, Assistant Professor, Institute for Health Metrics and Evaluation, University of Washington
Laura Boehner, Chief Technology & Knowledge Officer, Gavi – the Vaccine Alliance
Adam Sturesson, System Manager, Sida
Nadia Daar, Head of Washington DC Office, Oxfam International (moderator)
Felix Fernandez-Shaw, Director General, DG International Partnerships, European Commission (opening remarks)
Gary Forster, CEO, Publish What You Fund (presentation)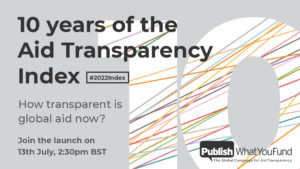 Join the conversation using the hashtag #2022Index