Metrics matter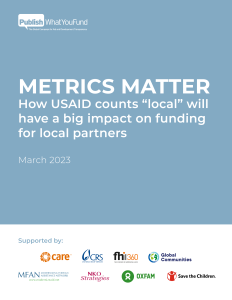 In November 2021, the United States Agency for International Development (USAID) Administrator Samantha Power set out her vision to make aid more accessible, equitable, and responsive, including a key metric that 25% of USAID's funding will go to local partners by 2025. Publish What You Fund has undertaken detailed research into the 25% local partner funding goal to establish an independent, credible, and replicable baseline to measure and track funding for local partners. Using a sample of ten countries where USAID works, we calculated the current proportion of USAID funds received by local organizations. We compared two separate approaches – USAID's announced measurement approach that looks at a narrow set of funding and uses simple criteria to identify local organizations, and our own approach that includes more project funding and uses detailed criteria to identify local organizations.
The outcome of our analysis illustrates how differences in measurement approaches change the funding amounts USAID will need to provide local organizations to reach the 25% target.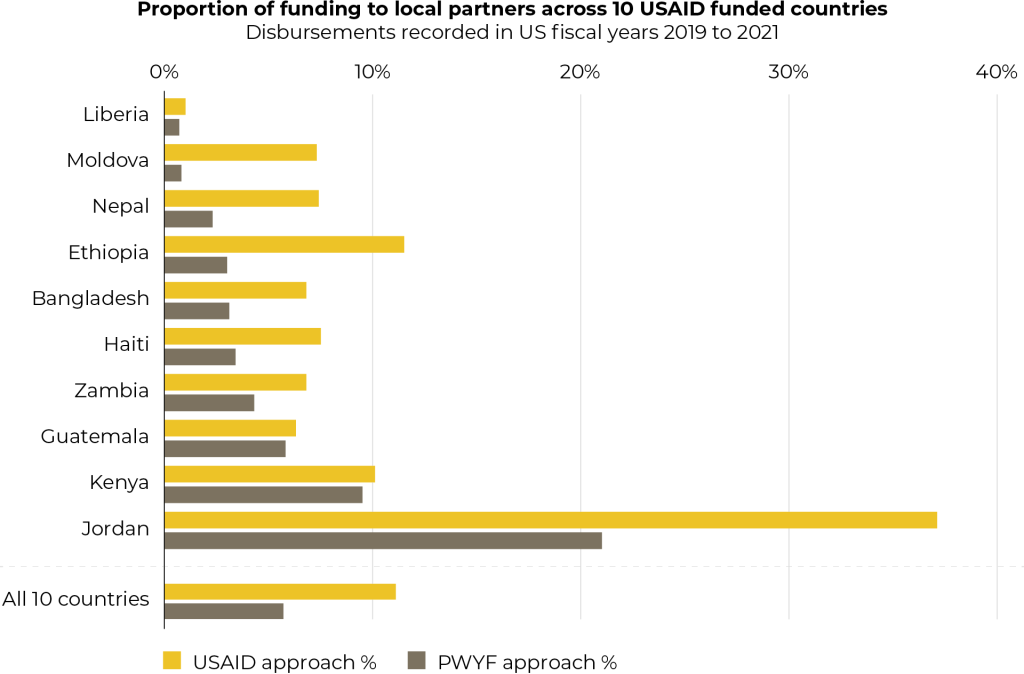 Download the report            Download the summary
Our findings
Using the ten sample countries and applying both measurement approaches, USAID's approach nearly doubles the percentage counted as going to local organizations – 11.1% compared to 5.7%.
The different measurement approaches have an impact on the dollar amounts of funding that will need to go to local organizations to meet the 25% target:
Under USAID's approach, an estimated $612m went to local partners for FY19-21. To reach 25%, USAID would have needed to channel an additional $769m to local organizations.
Using Publish What You Fund's approach, an estimated $445m went to local partners. To reach 25% USAID would have needed to channel an additional $1.50bn to local organizations.
Publish What You Fund estimates that when the funding differences are scaled-up to all of the countries where USAID operates, USAID's measurement approach would under fund local partners by $1.43bn per year.[1]
USAID's approach to measurement results in a higher percentage of funding counted as "local." This has two primary impacts:
The baseline will not align with USAID's own definition and all future measurements will likewise be flawed, overestimating the actual funding being provided to local partners.
Because of this overestimation, USAID will not be sufficiently incentivized to undertake the reforms needed to significantly expand its work with truly local organizations.
Based on our findings, we recommend:
USAID should reconsider its measurement approach and create a credible, replicable process that aligns with its own definition of local funding and eliminates adverse incentives.
USAID definitions and measurement approaches should be made fully transparent and should use publicly available data, such as IATI data, for independent verification.
USAID should publish individual country targets and progress towards those targets when these are established.
This research was supported by Save the Children US, Care USA, Catholic Relief Services, FHI 360, Oxfam America, Global Communities, NKO Strategies, and MFAN.
The research was launched at an event co-hosted with MFAN on 1st March 2023. You can watch a recording of the event, and access the presentation, here.
The research was preceded by a six month pilot study, which tracked USAID funding to Zambia in 2019. The exploratory analysis proved that it is possible to use current International Aid Transparency Initiative (IATI) datasets to analyse funding flows between the world's major aid funders and their primary recipients — and to determine to what extent those recipients are local.
Our dashboard
Our approach uses publicly available data and focuses on the primary, or first, recipient of funds. We define and then assign specific "local" organizational characteristics (such as principal place of business and/or years of operation) to the recipients of donor funds. For our research, we used a definition of local based on an aggregate of definitions put forward by a range of credible stakeholders. But our approach enables others to manipulate the data to present funding flows in line with their own interpretations of what it means for an organization to be local. We have created a dashboard which allows users to pick their own local characteristics, individual countries out of the 10 sampled, commitments or disbursements, and to visualize the different outcomes.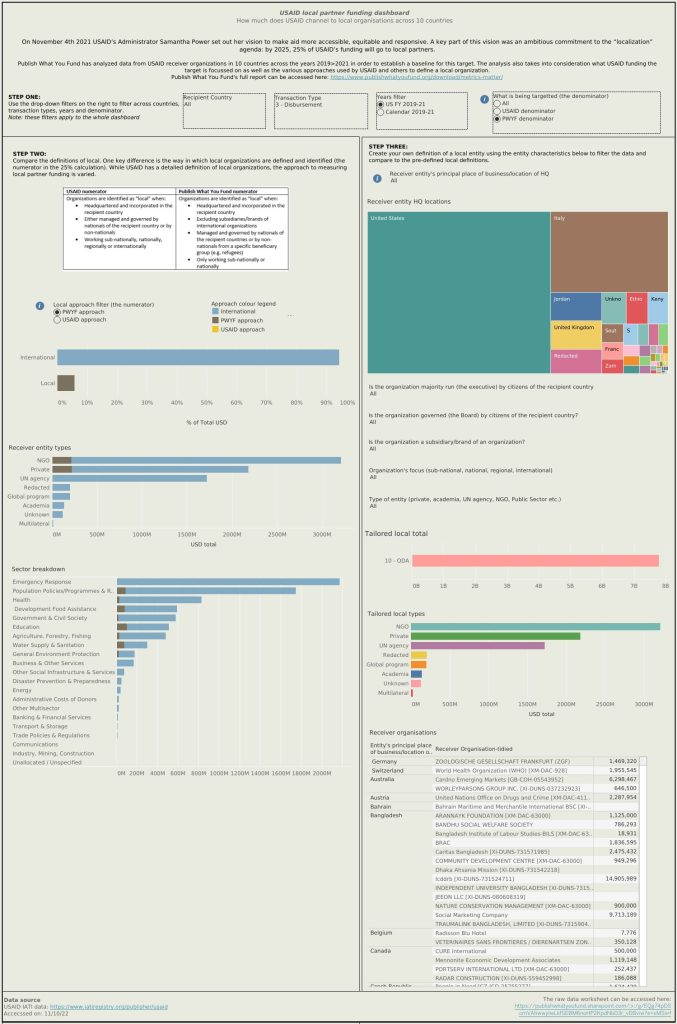 Scaling up our research
This research could be scaled up to cover all G7 donors, providing an independent annual comparison to be used by aid agencies and advocates alike to drive faster, better funding of local organizations. Importantly, our methodology accommodates the many nuanced definitions of "local" proposed by funding agencies as well as those valued by localization stakeholders. This concept note lays out more details of our approach which would, with additional funding, provide an independent baseline of funding flows for the major aid agencies.
We hope that our work will help drive an evidence-based path to greater locally led development.
[1] We based this estimate on a simple extrapolation, scaling up the shortfall proportional to the share of USAID's annual expenditure in the ten case study countries.