Aid Transparency Assessment presented in Washington DC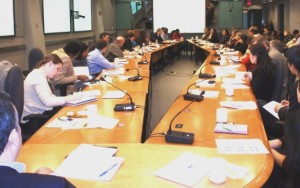 On 8th December, Publish What You Fund presented the findings of our Aid Transparency Assessment at the World Bank in Washington, DC, and at the Brookings Institution on 9th December.
The World Bank panel discussion featured William Towah (Unit Director of the Aid Management Unit, Ministry of Finance, Liberia), Joachim von Amsberg (Vice President for Operations Policy and Country Services, World Bank), Karin Christiansen (Director, Publish What You Fund), Chad Dobson (Executive Director, Bank Information Center), Susanna Moorehead (Executive Director for the United Kingdom, World Bank).
Download the presentation Karin Christiansen gave at the World Bank (PPTX, 421KB)
Update 24/01/2010: the World Bank have their own write-up of the event here.