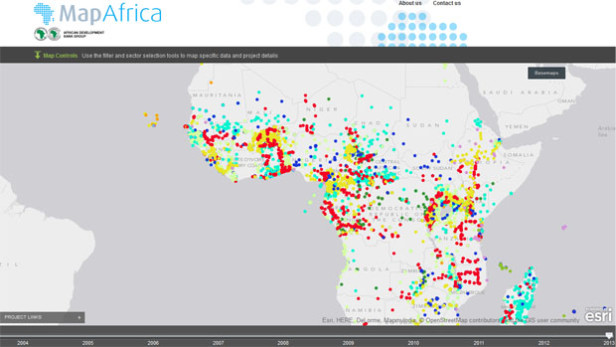 The African Development Bank (AfDB) have launched a new online platform to map out its investments across in Africa, announced at the bank's annual meeting in Kigali.
Developed with AidData, MapAfrica is a geocoding tool that coordinates help identify the banks' activities in different countries and regions. Their end goal is to enable citizens, governments and donors to view the locations of AfDB's investments in development projects throughout Africa. 
David Hall-Matthews, Director of Publish What You Fund, said:
"The AfDB had the highest overall score among international financial institutions in the 2013 Aid Transparency Index, and we are glad to see it continues to invest in transparency.
"MapAfrica is a great first step at visualising the full aid delivery chain. We understand there is further work planned by the bank to use IATI data in the platform, which we think will enrich the information and capabilities of MapAfrica."
Similar to the World Bank Mapping for Results and the Inter-American Development Bank MapAmericas, the interactive platform also features information on project results and stories from beneficiaries.