From budget to Kampala in 4 clicks
The Netherlands Ministry of International Trade and Development Cooperation have launched a new budget webpage. It is first site of its kind to offer the potential to track national budget all the way to local delivery projects, and something worth shouting about. 
That said, it is also perhaps not the most intuitive site, so I asked Theo Sande at the Ministry to take us from budget to Kampala in four clicks…
The first thing you notice on the front page – other than the fact that it is all written in Dutch! – is that there are 4 distinct blocks on the front page (labelled below).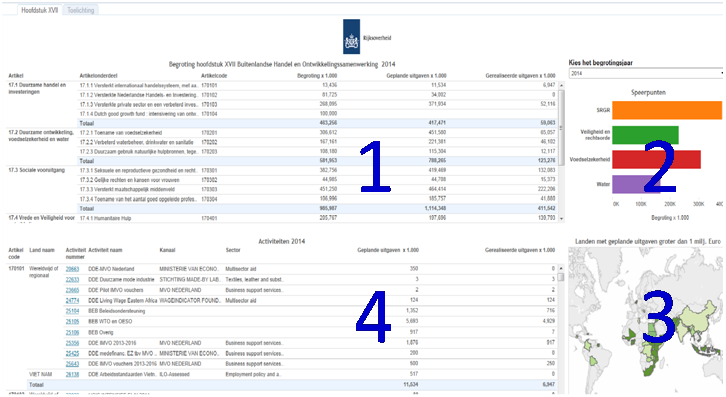 Block 1 provides an overview of the 2014 budget of the ministry for international trade and development cooperation, including also the planned expenditures as well as the most recent actual expenditures.
Block 2 is the 2014 budget on the four specific policy priority areas within the overall budget.
Block 3 an overview is provided of all the countries where total 2014 planned expenditures are more than 1 million €. The darker the green, the higher the estimated expenditures.
Block 4 the actual activities are listed.
Suppose you want to know which food security activities are ongoing in Ethiopia.
First select food security in block 2 (in red, termed voedselzekerheid). The map in block 3 and the activities list in block 4 are immediately adjusted.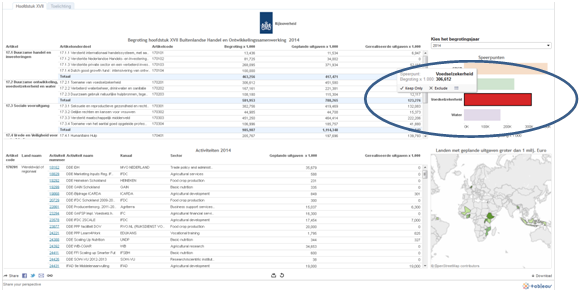 On the map in block 3, you can see that Ethiopia is dark green.
Clicking on Ethiopia results in the list in block 4 having all the Ethiopia designated activities on food security. The blue activity number in front of every activity can be used to get background information on the website of openaid.nl.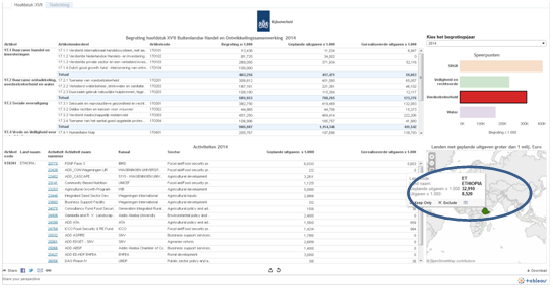 Pushing the revert all button at the centre bottom of the page brings you back to the entry point.
But you can also start with selecting in block 1 and a specific article or sub-article of the budget, e.g. subarticle 17.3.3. strengthening civil society (versterkt maatschappelijk middenveld in Dutch).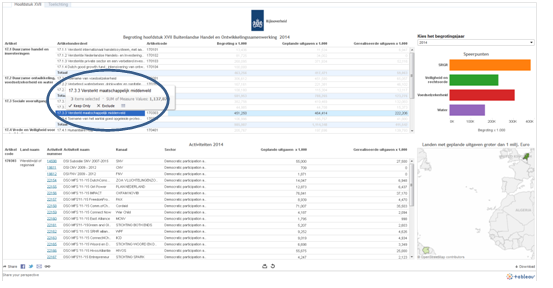 The subarticle turns blue and the map (block 3) and list (block 4) are adjusted accordingly. Scrolling down in block 4 shows act. nr. 22168 Wash Alliance, implemented by SIMAVI.
Selection of this activity brings you directly to the page in openaid.nl with background information on the activity.
Selecting the tab  RSR/Local projects brings you to the webpage of the Wash Alliance and an overview of activities they support.

From there you can select one of those activities to get detailed information at ground level, e.g. the first one on the list Scaling up sanitation as a business in Kitgum.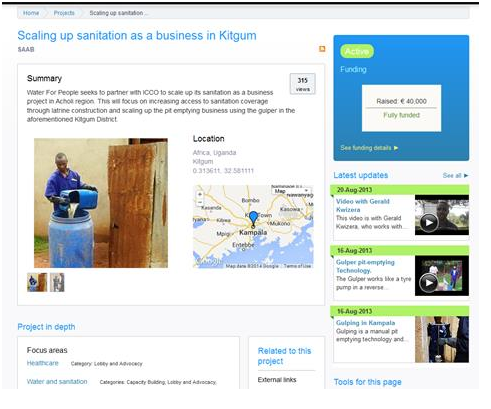 Although still far from perfect, this example shows the potential of linking IATI datasets. In this case, enabling you to travel from the budget of the ministry to sanitation as a business in Kampala – in four clicks.