DFI disclosure: New resource shows what is possible
Over the course of our work to help development finance institutions (DFIs) improve their transparency practices, we have heard arguments that certain forms of disclosure are not possible. We've also frequently been asked to share instances of disclosure by other DFIs. To help address perceived barriers and to guide improved disclosure, our team has compiled the Disclosure Example Book. It is intended to show what is possible in terms of DFI disclosure and we hope it will be a useful resource for anyone working to strengthen DFI transparency.
Measuring and improving DFI transparency
In January 2023, Publish What You Fund launched the first edition of the DFI Transparency Index. The Index measures the transparency of 30 bilateral and multilateral, sovereign and non-sovereign DFIs. The Index finds that overall, DFIs are not transparent enough. DFIs are not providing evidence of impact, data regarding mobilisation, or proof of accountability to communities. But progress is being made – use of and adherence to the standards laid out in the DFI Transparency Tool are guiding the efforts of leading DFIs who have improved their disclosure over the last two years.
Following publication of the DFI Transparency Index, the team has continued our engagement with the institutions that were assessed. The meetings have been building on our past collaboration as we try to support DFIs in improving their disclosure. We identified areas of potential improvement, and specific recommendations as set out in our individual DFI profile pages. During these meetings a number of DFIs requested examples of disclosure for a variety of data points. Given the numerous and varied requests, the team decided to put together a Disclosure Example Book that demonstrates instances of disclosure for the survey questions and indicators in the DFI Transparency Index.
What's included in the example book?
The team has drawn examples from across the DFIs we assessed for the Index. The Disclosure Example Book includes disclosure by both bilateral and multilateral DFIs.
The Disclosure Example Book is intended to show what is possible in terms of disclosure. By demonstrating disclosure by peer DFIs, the examples indicate that perceived constraints to disclosure can often be overcome. In some cases, our team has been told that disclosure of a particular type of data is not possible, or that no DFI would be willing to disclose such information. However, through the course of our DFI Transparency Index assessments we often identified instances of disclosure which suggest this is not the case. For example, we have commonly been told that non-sovereign DFIs cannot disclose disbursement amounts due to confidentiality restrictions, yet found that the Danish DFI IFU disclose this data. There remain only a small minority of survey questions where our team were not able to identify examples of disclosure.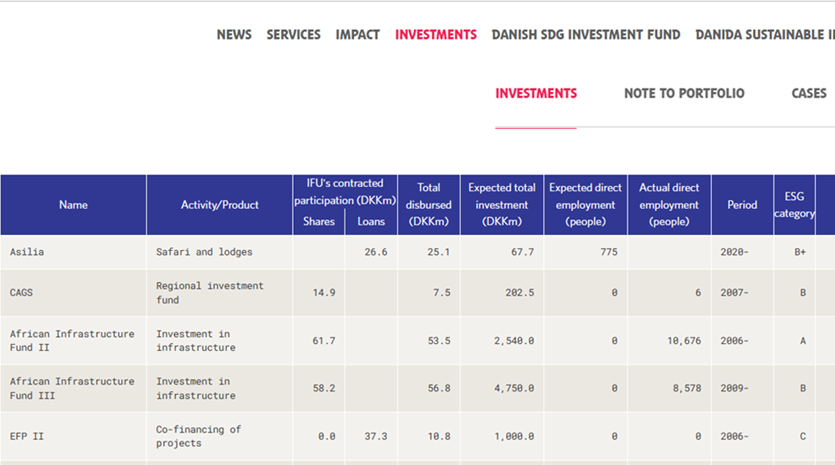 It is important to note that the examples contained within the example book are not being promoted as models of best practice. As set out in our methodology, some forms of data should be disclosed either to the International Aid Transparency Initiative (IATI) Standard or in a format that allows bulk download of data (such as a csv. file). For presentation purposes, the majority of examples contained within the book are taken from the web pages or project and organisational documents of DFIs. We have included a screenshot and a link to relevant information. More generally, given the broad range of disclosure practices, we encourage DFIs to identify the most appropriate way to disclose information, while adhering to guidance from the DFI Transparency Tool and the IATI Standard.
We hope that the example book will be a resource to both DFIs and to other stakeholders with an interest in improving DFI transparency. The document demonstrates that there are existing instances of disclosure for the large majority of data points that are assessed in the DFI Transparency Index. We intend to treat the example book as a living document and will update it with new examples when we identify disclosure of new or additional data points.
For more information, or to suggest additional examples of disclosure in line with our DFI Transparency Index, please contact Paul James at paul.james@publishwhatyoufund.org